Have you always dreamed of owning your own catering company? Do you love to cook and entertain, and want to turn your passion into a profitable business? If so, then starting a catering company may be the perfect business venture for you.
We understand cooking for large groups can be a daunting task, but with proper planning and preparation, it can also be a fun and rewarding experience. Catering Zone has been in the industry for over 10 years and we have seen firsthand what it takes to successfully launch a catering company. Here is a list of 11 steps that will assist you in launching a profitable catering in Sydney.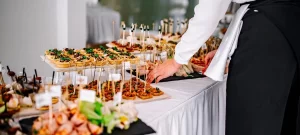 1. Research the competition.
Before you start promoting your catering business, it's important to know who your competition is and what they're offering. By understanding what others in your area are doing, you can set yourself apart and make your business more appealing to potential customers.
2. Develop a niche.
Specializing in a certain type of cuisine or event can help you attract a specific target market and build a loyal customer base. For example, if you're passionate about Italian food, consider becoming a wedding caterer that specializes in creating custom menus for couples who want an authentic Italian dining experience on their big day.
3. Write a business plan.
This document will serve as your roadmap for launching and growing your catering company. It should include information such as your target market, marketing strategies, financial projections, and staffing needs.
There are templates and resources available online to help you get started.
4. Choose the right name.
Your catering company's name should be reflective of the type of services you offer and easy for potential customers to remember. Brainstorm with friends and family members until you come up with something that hits all the right marks. A catchy name can do wonders for your marketing efforts, so don't underestimate its importance.
5. Get insured.
When you're handling other people's food, it's important to have the proper insurance in place in case something goes wrong. Be sure to research different policies and find one that fits both your needs and budget before moving forward with your business venture.
6. Find a commissary kitchen.
Unless you already have a commercial kitchen in your home or office space, you'll need to rent one from another business owner in order to prepare food for your catering. Check out local restaurants or food trucks that may have space available for rent on an as-needed basis. With time you may be able to upgrade to your own commercial kitchen, but in the meantime, this is a great way to keep overhead costs low.
7. Purchase all the necessary supplies and equipment.
From serving plates and utensils to coolers and tents, there are a lot of supplies you'll need to purchase before you can start catering. If possible, try to buy used items or rent them from other caterers in your area to save money. You should also create a list of essential equipment that you'll need, such as ovens, stoves, and refrigerators, and start shopping around for the best deals.
8. Create an impressive menu.
Customers won't use your catering services if they don't like what you're offering, so take the time to develop a menu that will tantalize their taste buds. Make sure to include both fan favorites and unique items that will make your business stand out from the rest.
9 . Train your staff.
If you plan on hiring additional help, it's important to train them thoroughly on how to execute each dish on the menu perfectly. Spend some time in the kitchen practicing each recipe so that you can teach them everything they need to know step-by-step.
10 . Promote, promote, promote!
Now that everything is up and running, it's time to let everyone know about your new catering company. Utilize social media, online directories, flyers, word – of – mouth, and any other marketing strategies at your disposal to get the word out there.
11 . Evaluate, adjust, repeat.
After running several caterings, take some time to sit down and evaluate what worked well and what could be improved upon. Ask customers for feedback so that you can make any necessary changes moving forward.
Following these steps won't guarantee overnight success, but they will put you on the path toward achieving all of your catering dreams!
Conclusion :
Launching a new business is always risky, but with hard work, dedication, and these 10 helpful tips, there's no reason why your catering company can't be successful! Just remember to stay flexible and always be willing to adjust as needed; after all, even the best-laid plans don't always go according to to schedule! Good luck!